Design for
the religious sector.
Expand your organisation's message with impactful design.
Serving the religious community with multidisciplinary design since 2007.
Images have always been a powerful tool for conveying wisdom. Today, in an age dominated by visual media, effective design is more important than ever to get your message across amidst the noise of competing communication.
Since 1998, we have been creating bespoke designs in digital and print. And for the past 16 years, we've had the privilege of serving the religious sector by helping it communicate its message with clarity and creativity. Let us help your organisation reach the hearts and minds of people. With experience in editorial design, illustration, web, brand, video and more, we can create a range of designs that will increase your organisation's impact.
Our simple design system.
An effortless process
for you.
Design isn't aesthetics. It's connection. That's why we handle everything simplifying the process for you. You only share your thoughts and sign off.
A proactive
design approach.
Our expert team offers tailored advice to ensure your message resonates and remains relevant to your audience over time.
Quality design,
no matter the budget.
We strive to understand your needs and custom our approach accordingly. Expect careful listening and clear communication every step of the way.
Professional inspiring design for religious institutions.
Our long and rich history in logo design guarantees you an authentic representation to connect with your community in a meaningful way.
Every church, archive, religious museum, non-profit organisation and community has its own goal and audience. With our extensive experience with websites large and small, we can help your organisation appeal to them and meet the challenges of today.
Editorial design is the silent ambassador of your organisation's message. From annual reports to magazines to textbooks, we can help you capture the spirit of your project and communicate it with clarity and impact. Your audience will thank you.
Your institution's products and merchandise are a reflection of your message. We help you design packaging that conveys their value and inspires confidence in your audience.
Whether your organisation needs a product, event or educational label, we can help you capture the message of your project with a compelling label design that incorporates strong symbolism and accurately conveys values.
With a solid artistic background and a range of traditional and digital illustration techniques, we can help your organisation communicate values in an accessible and engaging way for audiences of all ages, from children's books to educational and marketing materials.
Our designs inspire a sense of reverence with a deepen connection to faith, whether it's a classroom poster, marketing material or a publication. With our extensive print design experience, we pay close attention to detail to ensure your message appeal to your audience.
Ignite your audience's emotions with our powerful storytelling videos. We help you create a narrative of your story speaking to the heart and mind of your audience in an inspiring way, motivating viewers to take action.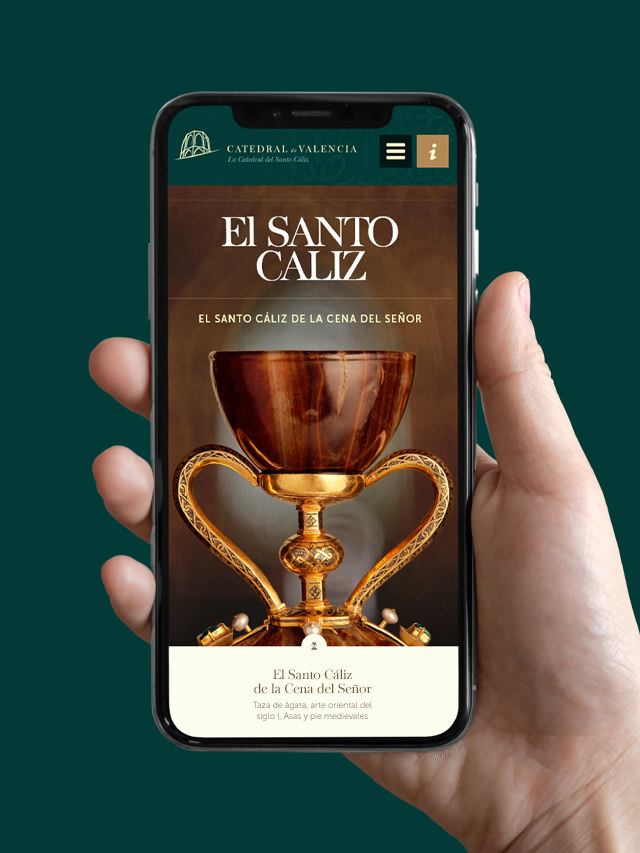 Valencia Cathedral
When designing a website for a cathedral, you need to capture the essence of this sacred place – its majesty, solemnity and spiritual power. The website for the Valencia Cathedral not only provides practical information about its services, activities and history, but also captures the attention of its visitors. With invaluable relics like the Holy Chalice of the Last Supper, the website serves as a source of inspiration for believers and tourists alike, inviting them to embark on a journey of spiritual discovery. Designed with an elegant and functional interface, whether exploring the cathedral's rich history or staying up-to-date with upcoming events, the website invites visitors to immerse themselves in the heart and soul of this extraordinary place.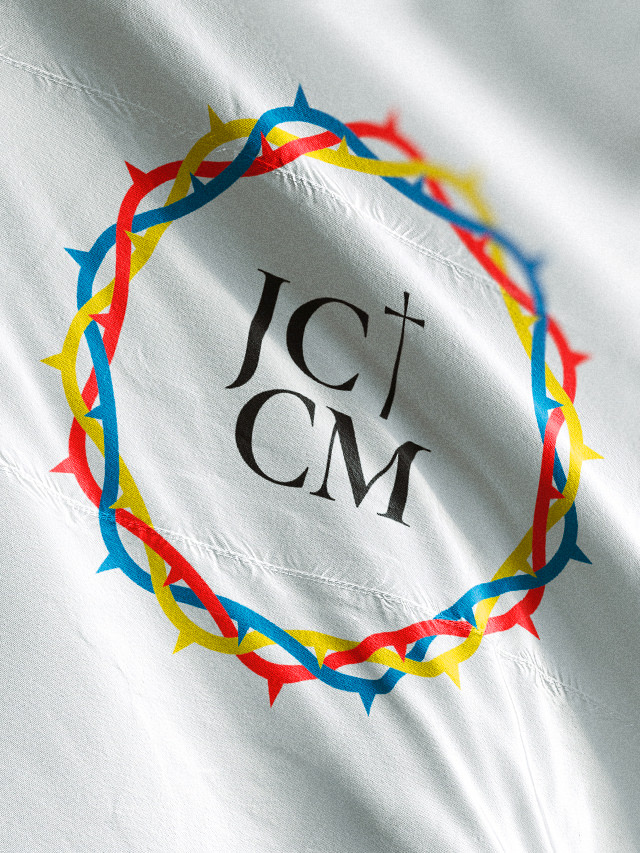 Junta de Cofradías de Monzón
The Junta de Cofradías de Monzón (Board of the Brotherhood of Monzón) needed a logo that reflected the Passion of Our Lord and promoted their city. Our solution was to design a simple logo that would speak to the community in a meaningful way. We incorporated the crown of thorns in the colours of Monzón, recalling the city's rich history and tradition. Through the typography, we inserted subtle symbols of the Passion: the "J" resembling a nail, the "JC" as a reminder of Jesus Christ, and the "M" alluding to the Sorrowful Mother at the foot of the cross. Through the interplay of all these elements, the logo effectively conveys the mission of the fraternity and at the same time is versatile enough for various applications.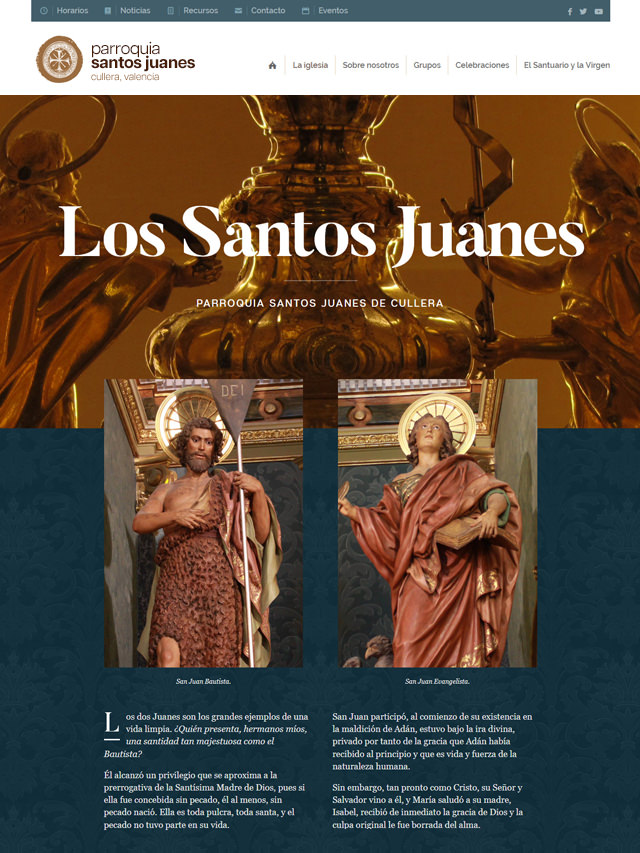 Santos Juanes Church
Santos Juanes Church in Cullera, Valencia, stands out as a dynamic centre where the community channels their love for God through helping others and spiritual formation. Together we have developed a functional website that greatly expands their reach and serves as a versatile platform for invitations, enquiries, event promotion and spreading their noble mission of evangelisation.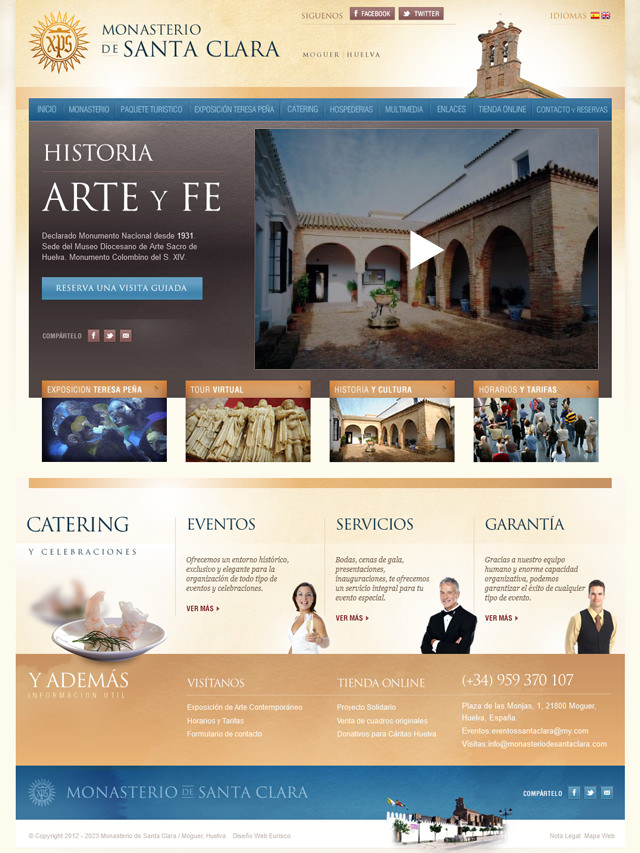 Monasterio Santa Clara de Moguer
Monasteries are unique institutions that require careful consideration of their rich history, architecture and services. The Monastery of Saint Clare of Moguer is a prime example. Its importance as a national monument, declared in 1931, and its inclusion in the Columbus Historic-Artistic Sites required a website that could serve as a digital representation of such a cherished institution. In addition to its rich history, however, the monastery also offers a range of services, from weddings to cultural events. We made sure to create a design that was not only visually relevant, but also easy to update to ensure that the website would remain a valuable asset to the monastery for years to come.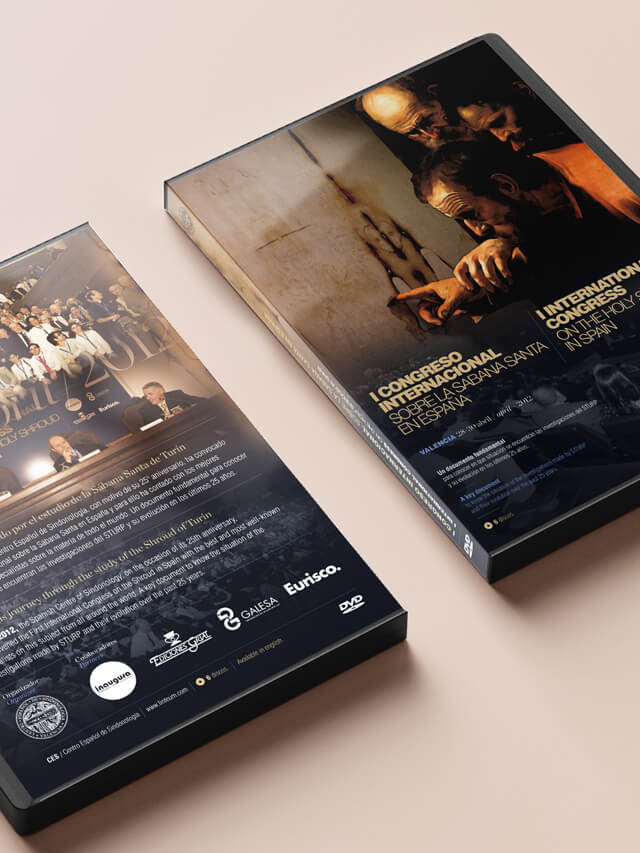 Centro Español de Sindonología
When the Spanish Centre for Sindonology (Centro Español de Sindonología) celebrated its 25th anniversary with the 1st International Congress on the Holy Shroud in Spain, it commissioned us to design the event branding, including stage banner, brochures, website for registration, conference teaser video and DVD cover. We embraced the challenge with enthusiasm, carefully designing each element to convey the deep meaning of the Holy Shroud and entice participants to take part. We are grateful to have been chosen to contribute our design skills to such an event for one of our Lord's most venerable relics.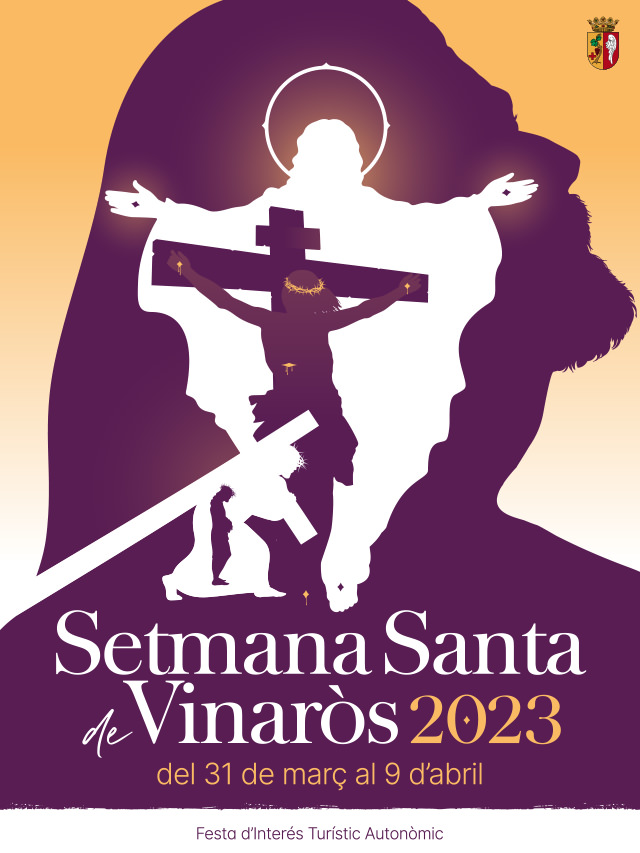 Holy Week poster design: a visual journey of love.
Setmana Santa Vinaròs
Our proposal for the poster for Holy Week in Vinarós aimed to convey to the audience that this is a moment of commemoration of the death and resurrection of Jesus Christ, in which his love for all is boundless. The central image of the resurrected Jesus, radiating light and life, reminds us that He has conquered death and opened the gates of heaven for us. The figure in the background, looking up to God the Father from below where we are, symbolises that the journey of redemption and love that began at Calvary continues to this day, as Jesus continues to intercede for us with His infinite Mercy whenever we ask.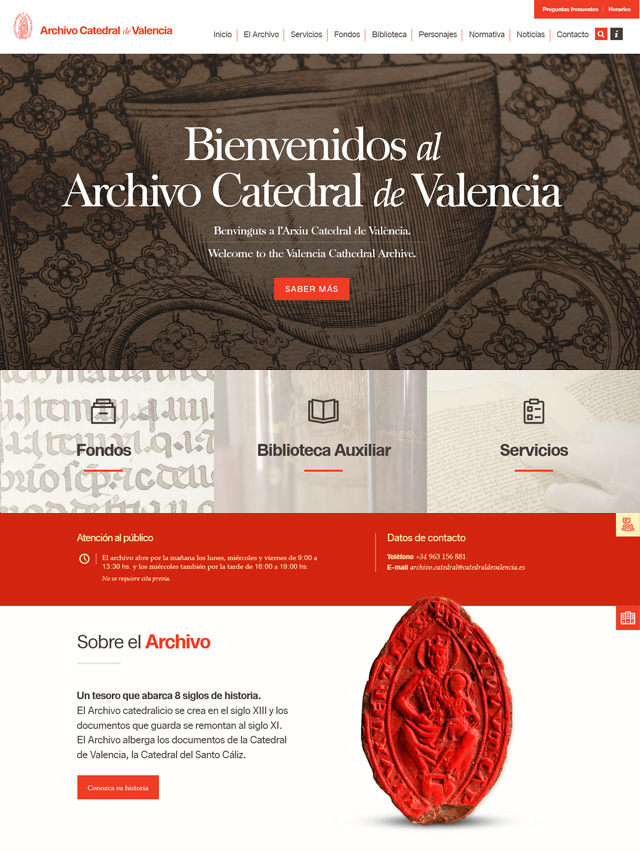 Valencia Cathedral Archive
With more than 780 years of cultural and religious heritage, Valencia Cathedral's archive needed a website that would make it accessible to all. We took on the challenge and focused on creating an elegant and timeless design that honoured the cathedral's rich history. Our team ensured that the website was easy to navigate and browse, with a focus on usability. We optimised the website for scholars and historians to easily find and use the treasures of the archive. The end result is a website that reflects the beauty and importance of the Valencia Cathedral Archive and becomes a valuable resource for anyone wishing to explore and discover the wealth of knowledge it contains.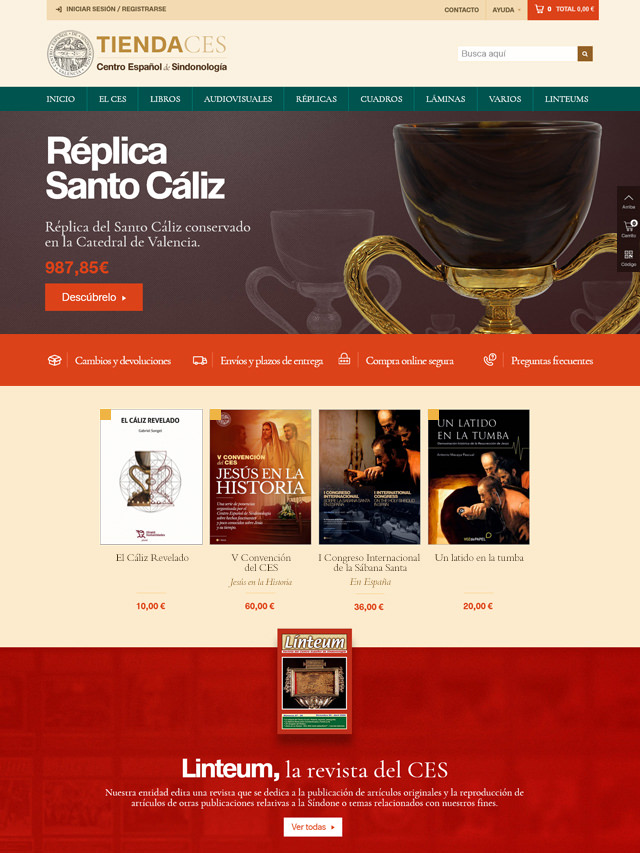 Online shop design for a Catholic association.
Centro Español de Sindonología
The Centro Español de Sindonología (Spanish Centre for Sindonology) is dedicated to the search for scientific truth about the Shroud of Turin and other relics of Jesus. They have published books and held numerous conferences on the Holy Shroud and other relics. In designing the online shop, our aim was to create a smooth and trustworthy experience for them and their clients in Spain and abroad.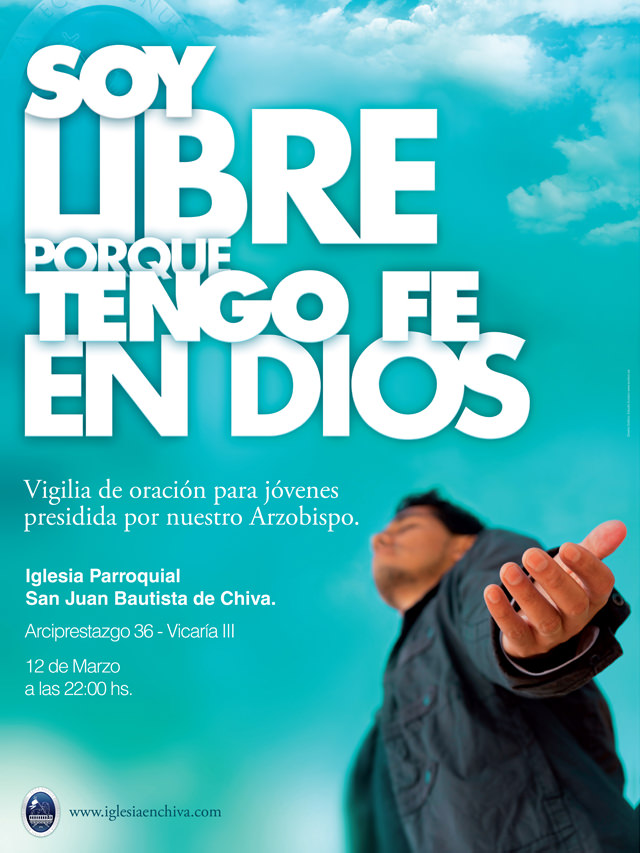 We are free because we have faith in God.
San Juan Bautista in Chiva
This is the message of a poster advertising a prayer vigil led by the Archbishop of Valencia at the church of San Juan Bautista in Chiva. To design a poster for young Catholics, you have to understand their values and beliefs. For this prayer vigil, we used bold colours and a dynamic typography to convey energy and spirituality. Our aim was to arouse curiosity and engagement in the target group and encourage them to join the community.
We are confident
that we can help you.
Highly qualified
team.
Our design team has diverse expertise. Branding, web design, illustration, editorial design, video and more. We can help you create a comprehensive and integrated support for your organisation.
A wealth
of experience.
With a proven track record spanning more than two decades across multiple industries and countries, our team is the ideal choice for organisations seeking a knowledgeable and versatile design partner.
A design process
that works.
Drawing on our extensive experience and commitment to continuous learning, we have developed a simple yet effective system that delivers results. Our designs not only look great, but are timeless and work seamlessly.
Choosing the right design team for religious organisations: three essential considerations.
For religious organisations looking to communicate their message and values, choosing the right design team can make all the difference. However, with so many options available, it can be difficult to make the best choice. Here, we will share three important considerations to keep in mind.
First and foremost, it is important to find a design studio that has experience in your field and truly appreciates your mission. An experienced designer in your area, can create designs that effectively communicate your message.
Second, look for a multidisciplinary design studio that is not afraid to think outside the box and has technical expertise to come up with creative designs that can be used on multiple platforms, including print, digital and social media.
Given the importance of messaging in your work, a design team that pays close attention to detail will ensure that all aspects of your communication are consistent. This multidisciplinary approach will also help you save money and meet any needs that may arise.
Third, communication skills and a collaborative approach are a must. The design team should be willing to work closely with your organisation to understand your vision and goals for the project – whether it's an event, a book, a website or a video – and incorporate them into the designs. Keeping you informed throughout the process is also important so that the project can be completed on time and on budget.
Ultimately, the designer your organisation chooses will be okay. However, if you're unsure, consider these factors to find the design team that best fits the needs of your project.
Our design studio is well equipped to help you. Click below to find out more about our capabilities and how we can support your organisation.
Frequently asked questions.
How long do you expect it to take to complete the designs?

Our timeline for completing the designs depends on the scale and complexity of the project. We work closely with your institution to set realistic timelines and milestones, and we keep you regularly updated throughout the process. We handle revisions and feedback in a collaborative and transparent process to ensure you're satisfied with the final product.

Can you explain your design process?

At the heart of our design process is an understanding of our clients' individual needs and goals. We work closely with you to develop a deep understanding of your organisation's mission and vision, and then use our expertise to create designs that effectively communicate your message. We involve your organisation throughout the design process, keeping them regularly informed and seeking their feedback to ensure the designs align with your goals.

What experience do you have in working with Catholic organisations?

We have been working for this community for over 15 years. At the very beginning of our design studio, we had the opportunity to work with a church as our first client. Since then, we have provided our services to various clients in this sector. We have helped them design printed materials and digital resources for events, websites, videos and more, always with the goal of connecting with their audience in a meaningful way.
How we design to your specification.
Are you ready to bring your project to life? Our simple process ensures we deliver results that meet your goals within your budget. In simple terms, here's what you can expect if you contact us now:
After sharing your project details with us, we may get in touch to clear up any doubts. Following this clarification, we will provide you with a quote based on your objectives, timeline and budget.
After receiving and approving our quote, we'll ask you a few questions to better understand your business. Following this, you'll receive a design test to ensure we're on the right track.
You'll have the opportunity to give feedback and make suggestions until you're completely satisfied with the design. Once you give us your approval, we'll start the development process.
Throughout the development and final revisions, we maintain clear communication to ensure everything is perfect and you're satisfied with the end result before delivery and implementation.
Get
pricing

.

Our clients trust us for three main reasons: they experience active listening and get what they need, they value our diverse expertise in a multi-channel world and they trust our proactive design service.

Click below to receive a free quote based on your goals, schedule and budget.