Design for
the music and film industry.
Design as the power to shape the public's perception of your art.
Linking your creation with the world through the perfect image.
Design plays a crucial role in how your audience perceives your creative art. As designers and music/film enthusiasts, we understand this very well. Our designs capture the essence of your artistic expression, whether it's a logo, a film poster or an album cover.
With a rich history in art and design, and a profound understanding of a wide range of musical, literary, cinematic, and artistic genres, our robust design system ensures that your creative concept is communicated precisely and creatively.
Whether you're a musician, filmmaker or any other type of artist, we're here for you.
Our simple design system.
An effortless process
for you.
Design isn't aesthetics. It's connection. That's why we handle everything simplifying the process for you. You only share your thoughts and sign off.
A proactive
design approach.
Our expert team offers tailored advice to ensure your message resonates and remains relevant to your audience over time.
Quality design,
no matter the budget.
We strive to understand your needs and custom our approach accordingly. Expect careful listening and clear communication every step of the way.
Design to forge an emotional bond with your audience.
Our award-winning brand design team will help you convey the true personality of your work. With our versatility and expertise in brand strategy, we'll ensure your work shines on every platform and appeals to the right audience.
Communicate the essence of your film or music with a clean web design. Our team creates e-commerce ready websites optimised for usability and search engines, all within your budget and timeline.
Unforgettable artwork is key for your film or music. From concept to creation, our experienced illustration team brings different styles to ensure your message is conveyed with originality and impact.
If quality, creativity and clear communication are your priorities in your film and music pipeline, then you've come to the right place. Our experienced team delivers high-quality animations, title sequences and more ensuring a smooth process with easy project management.
Create a compelling visual narrative that effectively communicate your message. Our editorial design team is detail-oriented and has a keen eye for your unique aesthetic and values.
Posters, tickets, brochures… all require a skilled graphic design team who understands the essence of your music or the message your film and can translate it into stunning visual assets that truly reflect your unique style.
From stage props to album covers, we work with you to create an eye-catching work that represents your music or film with creativity and authenticity.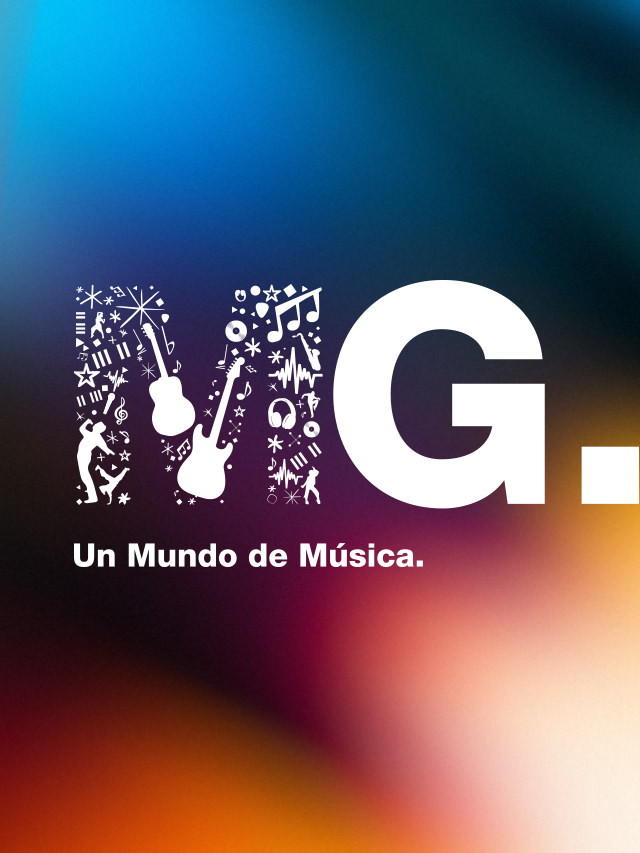 Mundo Guyi
Mundo Guyi is a multi-talented artist based in Spain, who is known for his Latin dance classes, music composition and singing. For his brand identity, Mundo Guyi relies on a cohesive brand identity that is both unforgettable and impactful. The design elements used in his brand identity work seamlessly together to convey the essence of his artistic vision, captivate his audience and help build his successful career.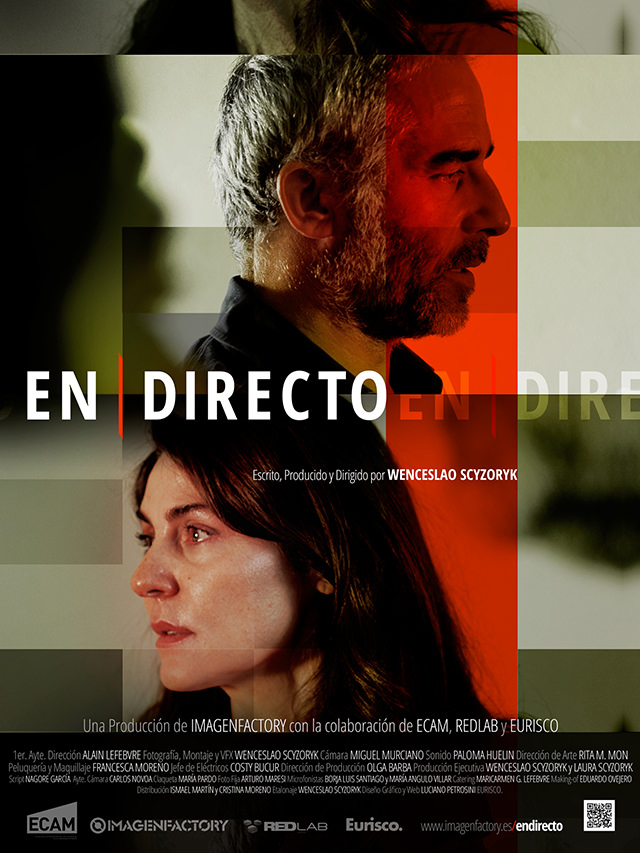 En Directo (Live)
"En Directo" is more than just an award-winning short film directed by Imagenfactory. It is a powerful story that shows the dark side of reality TV and its impact on our lives. The film follows a family on the day of their eviction as they navigate the twisted world of a live streamed TV show that promises salvation but only brings despair. With bold and thoughtful design, we supported "En Directo" every step of the way, carefully crafting the poster, title sequence and graphics to support the film's theme and message.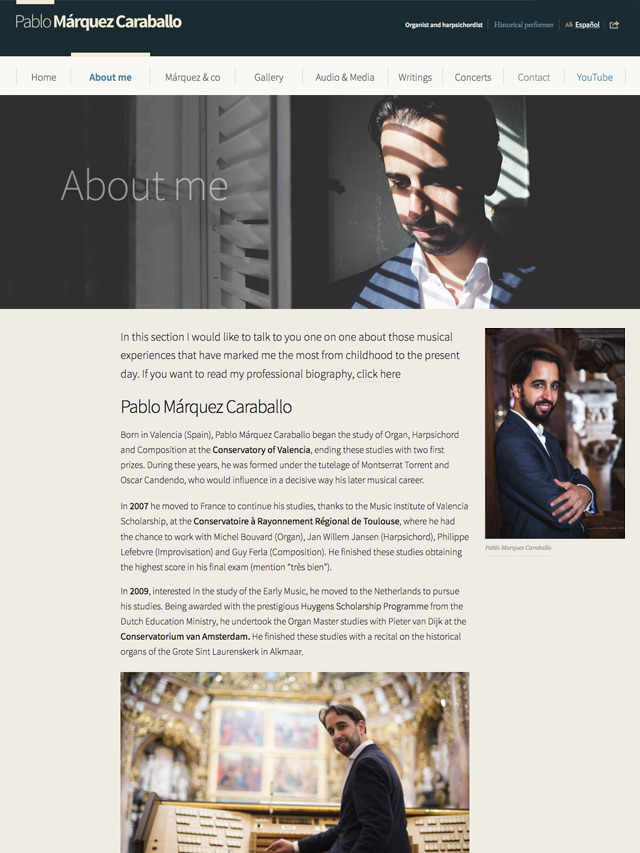 Visual aesthetics and functionality for a musician's website.
Pablo Marquez Caraballo
This sleek but functional website features high-quality photos and videos of the organist, as well as his latest releases, upcoming concerts and scholarly articles written by the musician. The result is a website that is easy to navigate and update, visually appealing and provides a comprehensive overview of the artist's successful music career.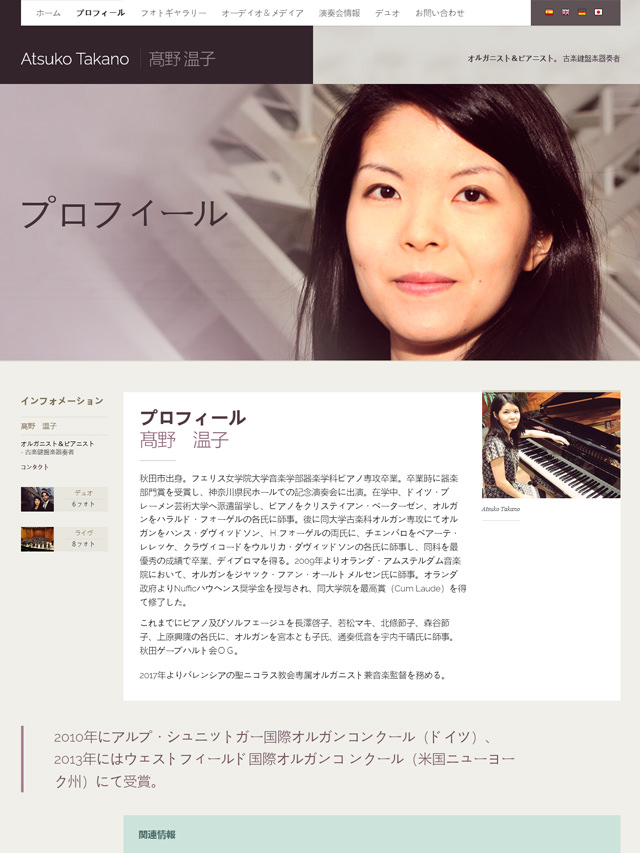 Simplicity and elegance for the website of a versatile musician.
Atsuko Takano
Atsuko Takano is a pianist and organist. Her website not only impresses with her remarkable background and performances, but also evokes deep emotions as it captures the essence of her performances through high-quality photos and videos. With a multilingual feature that includes Spanish, English, German and Japanese, the website expands its reach and welcomes a diverse audience. With a comprehensive overview of Atsuko's successful career in the music industry, her talent and passion will undoubtedly resonate with all visitors to the site.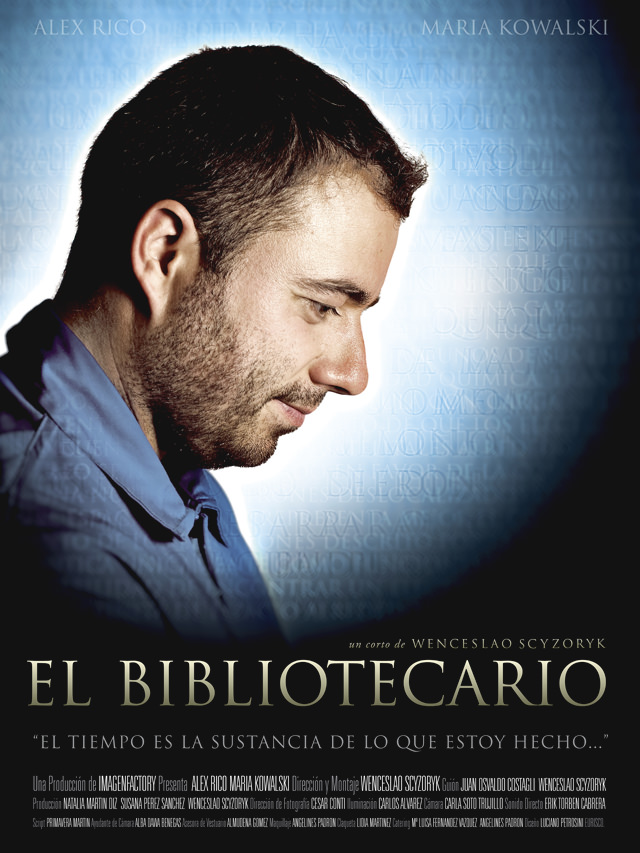 The Librarian
The poster for "The Librarian" is a striking visual that effectively captures the essence of Wenceslao Syzoryk's carefully crafted short film. Through a macro photograph of the librarian, the poster invites the viewer to take a closer look at the intricate details of life and serves as a poignant reminder of the power of contemplation in our fast-paced world.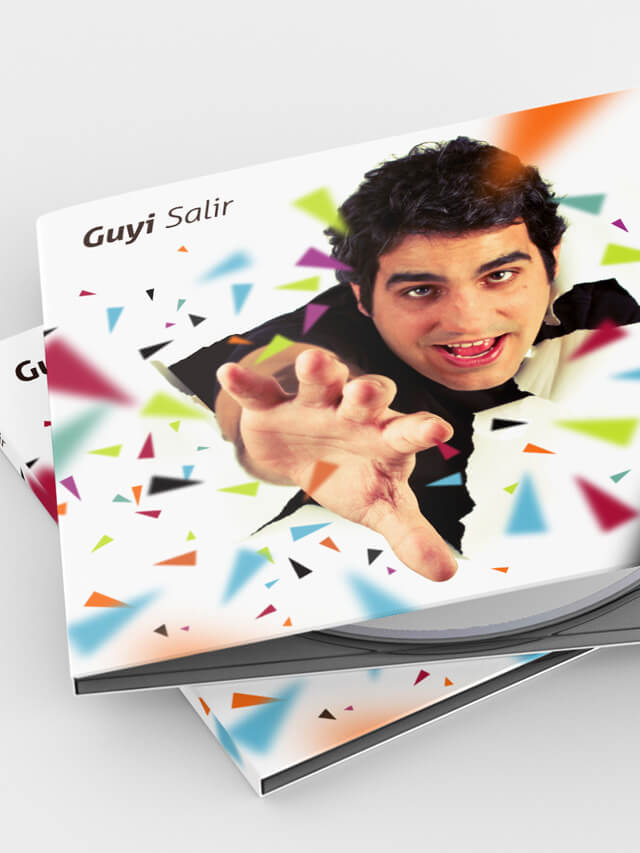 Salir
Guyi, a musical innovator with a passion for pushing boundaries, has created a stunning album called "Salir". The project showcases Guyi's musical talents while presenting a fresh and unique image of himself. The album's design consists of a symbolic triangle that symbolises the terms "exit", "play" and "download".
The bold colour choice of the design is daring and dynamic, reflecting the diversity of musical styles on the album. "Salir" is a captivating sensory experience that perfectly embodies Guyi's creative spirit of experimentation and his tireless dedication to breaking new ground in his art.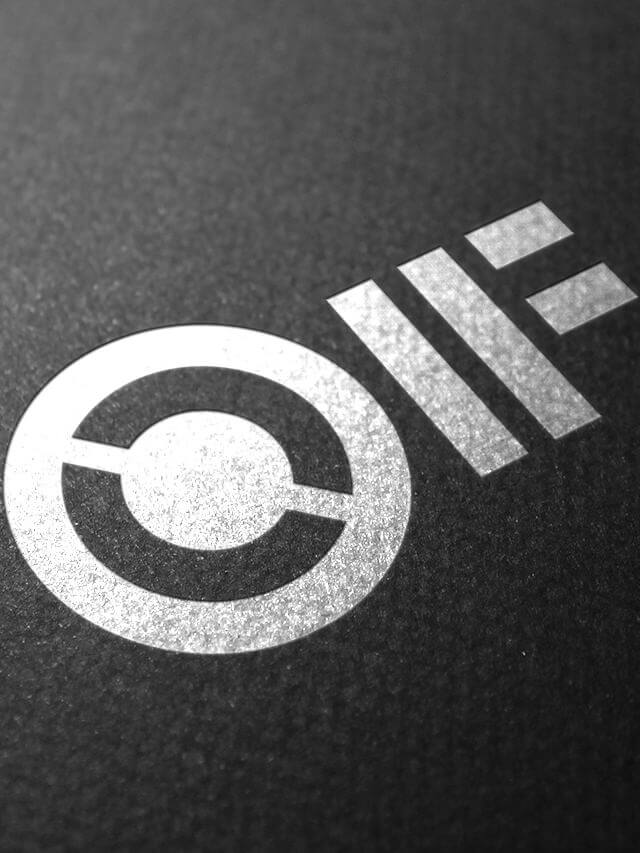 Imagen Factory
When refining the logo for an audio-visual production company specialising in film, advertising and visual effects, choosing a symbol that suited their industry was of paramount importance. Although the client had already designed their logo, our task was to enhance the design by refining the lines and overall look.
The use of the bright colour yellow helped to convey a sense of energy and passion that is characteristic of the company's work. By seamlessly integrating these elements, we were able to create a logo that effectively communicates the company's expertise and creativity, ultimately helping it to establish a strong and recognisable brand identity in its industry.
We are confident
that we can help you.
Highly qualified
team.
Our design team has diverse expertise. Branding, web design, illustration, editorial design, video and more. We can help you create a comprehensive and integrated support for your organisation.
A wealth
of experience.
With a proven track record spanning more than two decades across multiple industries and countries, our team is the ideal choice for organisations seeking a knowledgeable and versatile design partner.
A design process
that works.
Drawing on our extensive experience and commitment to continuous learning, we have developed a simple yet effective system that delivers results. Our designs not only look great, but are timeless and work seamlessly.
Selecting a design studio for your film or music business.
Are you looking to make your film or music business stand out? The right design studio can help make that happen. Of course, quality, flexibility and clear project management are crucial, but there are three other factors you should keep in mind.
Firstly, you should choose a studio that has a deep knowledge of different music and film genres and styles.
This way, they can create designs that truly capture the essence of your project. Without this expertise, it can be difficult to understand your needs effectively, which can lead to a waste of time and resources.
Secondly, effective communication and collaboration are also crucial factors in any design project.
You should work with a studio that values clear communication with their clients, is responsive to your requests and provides a clear timeline for the project. This will ensure that the design process runs smoothly and efficiently and that there are no misunderstandings or delays.
Finally, it is advisable to choose a design studio with solid experience in graphic design, digital and print, as well as video and illustration. This will ensure consistency across all aspects of your project, optimising time and budget.
We can certainly help you. And we're not just saying that. Click below to get your no obligation quote and see how we can assist you in achieving your goals, no matter how big or small.
Frequently asked questions.
How do you deal with feedback and revisions during the design process?

In our design studio, we are aware of the crucial role that feedback and revisions play in creating effective designs. For this reason, we have implemented a rigorous process to gather and consider client input throughout the design process.

This process includes soliciting feedback at every stage of the project, from initial concepts to detailed mockups. We carefully analyse this feedback and assess how it can be effectively integrated into the design, working closely with you to ensure we fully understand your needs and preferences.

Communication is an important part of our approach, as we are in constant dialogue with you and regularly update you on our progress. Through this collaborative approach, we are able to produce designs that not only meet your objectives but also can go beyond your expectations.

How do you ensure that design projects are delivered on time and within budget?

Our approach to delivering design projects on time and on budget is based on a comprehensive project management system that includes preparation, planning and effective execution. We start by understanding your needs and desires, and then develop a detailed project plan that guides us through the project from start to finish. We constantly monitor our progress against the plan, make adjustments as needed and maintain open communication with you. This approach has proven to be effective in ensuring successful project delivery.

How do you approach the design process, and what role do clients play in the process?

When it comes to design, we start with you. It's important to understand what your organisation wants, what its needs are and where its problems lie before we develop creative ideas.

Once I have a solid understanding of your organisation, we move on to developing a creative concept. This involves brainstorming ideas and testing them against your objectives and your brand identity to see what works best. We also pay close attention to aesthetics and usability to ensure they are visually appealing and easy to use.

As for your role, we think you play a crucial part in the design process. You are the one who knows the most about your company, your industry and your customers. That's why we rely on your input and feedback throughout the process. We keep you informed at every stage so there are no surprises when it's time to deliver the final design.

Ultimately, our goal is to create a design that not only meets your goals, but also resonates with your audience. By putting you at the heart of the design process and working closely with you, we can achieve both of these goals.
How we design to your specification.
Are you ready to bring your project to life? Our simple process ensures we deliver results that meet your goals within your budget. In simple terms, here's what you can expect if you contact us now:
After sharing your project details with us, we may get in touch to clear up any doubts. Following this clarification, we will provide you with a quote based on your objectives, timeline and budget.
After receiving and approving our quote, we'll ask you a few questions to better understand your business. Following this, you'll receive a design test to ensure we're on the right track.
You'll have the opportunity to give feedback and make suggestions until you're completely satisfied with the design. Once you give us your approval, we'll start the development process.
Throughout the development and final revisions, we maintain clear communication to ensure everything is perfect and you're satisfied with the end result before delivery and implementation.
Get
pricing

.

Our clients trust us for three main reasons: they experience active listening and get what they need, they value our diverse expertise in a multi-channel world and they trust our proactive design service.

Click below to receive a free quote based on your goals, schedule and budget.